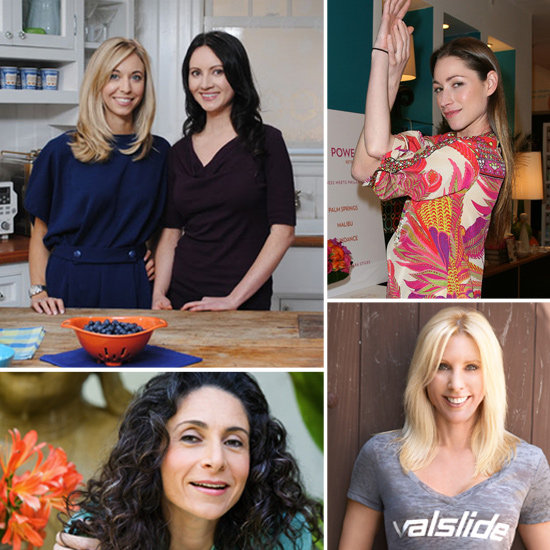 For the patient and well prepared among us, Black Friday can mean significant-discount shopping. For the rest of us, it can mean braving the crowds, dealing with hunger pangs, and ignoring achy feet only to get back to the house empty-handed. No matter which Black Friday camp you belong to, chances are that if you are shopping today, you'll need to be prepared in order to stay healthy (and out of the food court).
We asked a few celebrity trainers, nutritionists, and dietitians to tell us what they pack in their purses to ensure they stay healthy, happy, and stress-free during this hectic shopping day. Read on for their advice and recommendations!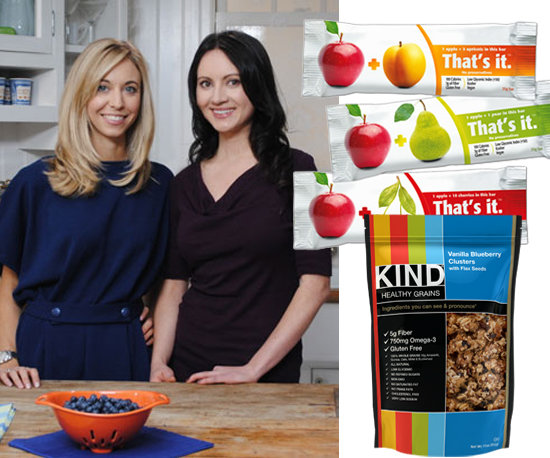 The ladies of C & J Nutrition, Willow Jarosh and Stephanie Clarke, are registered dietitians who love to share what they're eating on their Twitter page and as regular contributors to SELF Magazine. During the busy holiday shopping season, chances are they'll be reaching for these purse essentials:


Fruits and nuts: Both Willow and Stephanie throw a That's It bar in their bags. They say,"We love these because they're only fruit and nothing else, but in an easy-to-eat form." They also supplement with a few almonds or pistachios (seven almonds or 12 pistachios for 50 calories worth, or double the amount of nuts for a more substantial 100-calorie snack). Supplement your granola: The C & J ladies like to add chopped walnuts for more power-shopping sustenance. "We put one tablespoon of chopped walnuts in a baggie with 1/4 cup of KIND granola to get a 150-calorie snack or two tablespoons walnuts with 1/4 cup granola to get a 200-calorie snack," they say.
A meal to go: If you know you're going to be spending a prolonged session at the mall, you may need something a little more long-lasting. Willow and Stephanie recommend making a whole wheat peanut butter and apple sandwich with cinnamon to take with you. "This can be a meal, which is awesome because you don't need to refrigerate it!" Other essentials: Bottled water or unsweetened ice tea — "Staying hydrated is so important for keeping our energy up, feeling good, and having a clear head while shopping." And lip gloss. They say, "It's a simple mood boost/confidence boost and makes you think twice before mindlessly grazing because you'll have to reapply."
2. Mandy Ingber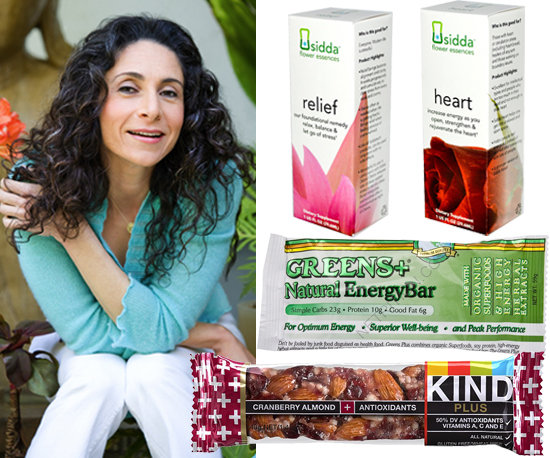 Jennifer Aniston's go-to yoga guru knows that the trick to a having a good shopping day is staying stress-free. She shared with us her bag essentials that keep her energy up and nerves unfrazzled: Beat the stress: Mandy recommends you carry Siddatech Flower Essence Sprays, "Especially Relief and Heart," she says, for an energy boost. She also carries angel cards to stay calm. "Sometimes when stressed, I choose a card," Mandy says. "It calms me down and gives me a focus." Don't go hungry: Mandy goes for bars that are jam-packed with healthy fruits, nuts, and superfoods — like Greens Plus bars, made with ingredients like almond butter, hemp protein, and dates, and KIND fruit bars, to sustain her during a power shopping trip. Other essentials: EOS organic lavender hand sanitizer, Burts Bees lip balm, Laura Mercier almond hand lotion, and almond coconut milk hand cream.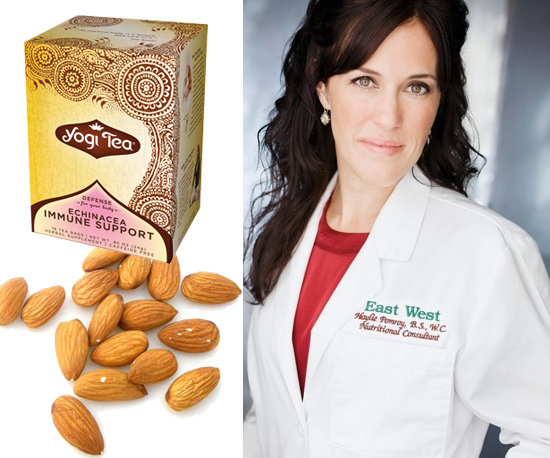 Nutritionist Haylie Pomroy helps keep celebrities like Reese Witherspoon and Jennifer Lopez looking and feeling great. She told us how she stays healthy on the go: she assembles a "healthy first aid kit" before braving the mall. "When I head out the door for my Black Friday or any holiday shopping, I don't want to stop for anything," Haylie says. "This kit keeps me away from the free food and keeps me going!" Healthy essentials: Haylie's "first aid kit" contains her own East West Essentials Optimal Protein Bar, raw almond mini packs, and Yogi Echinacea Immune Support tea. She also carries a water bottle mixed with a sachet of East West Essentials Optimal GI powder. She says, "I throw one in my water bottle. [It] breaks down my food, increases my immune system, keeps my blood sugar stable, and keeps me from getting bloated from 'food on the go.'"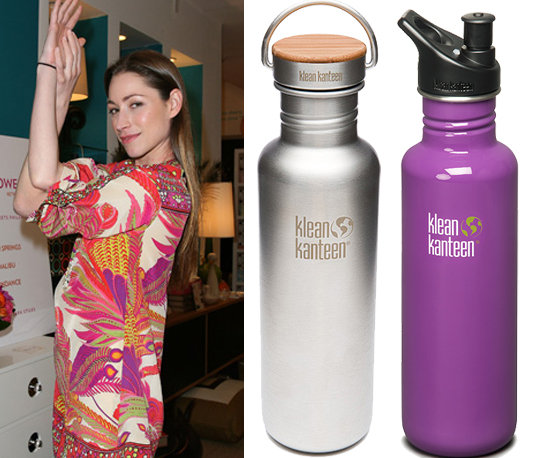 Author, studio owner, and both Deepak Chopra and Jane Fonda's go-to yoga girl, Tara Stiles knows what it's like to be busy. When we asked her for her Black Friday shopping-spree purse essentials, she knew that the secret to juggling a lot is to keep it simple. "A Klean Kanteen of water to stay hydrated and a clear idea of what I want to spend," she said. And she was quick to extend some very helpful advice for the stressed among us: "Less is more. Friends and family love you the same if you get them something expensive and over-the-top or make them a homemade card."
Strike a pose: They may be in her head, not her purse, but you can bet Tara's also carrying around an arsenal of relaxing yoga poses to get into when thing's become stressful. We recently asked Tara for her favorite way to relieve stress; her answer? The pigeon pose. While you may not be able to drop your shopping bags and hit the mall floor in this pose, try the pigeon pose to relieve stress when you get home after a day of shopping.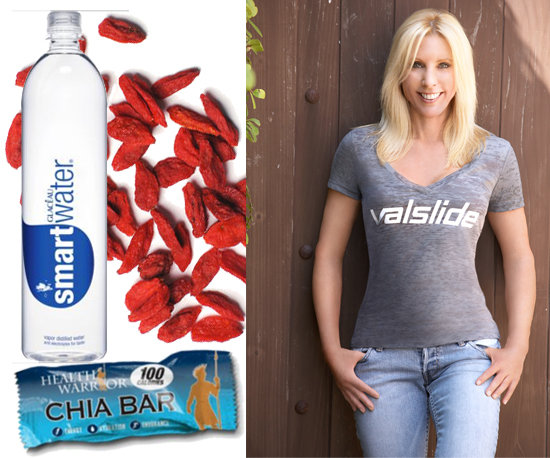 Trainer Valerie Waters has made a career of keeping actresses like Jennifer Garner and Jessica Biel in shape. Valerie shared with us what she keeps in her purse when she's out and about running errands: The go-to snack: Valerie makes her own sweet, crunchy mix of berries, nuts, and chocolate to keep her energy up during marathon shopping sessions. To make, combine 12 almonds, a quarter cup of either raisins or goji berries, and six dark chocolate espresso beans. "Basically my snack is protein, healthy fats, good sources of carbs, and a little sweet treat in there," Valerie says. "It's really satisfying and it's not perishable — you can throw it in your purse, run around all day, and it'll still be there the next day if you didn't eat it." No time to prep: If she hasn't had time to make her snack bag, Valerie reaches for another energy-boosting snack: A 100-calorie Health Warrior Chia Bar. "I just got turned on to these and I love them," Valerie says. "[The bar is] littler, but chia seeds are really high in fiber and it has a lot of chia seeds so you feel very satisfied." Other essentials: A bottle of SmartWater. She says, "I like the medium-size bottle because it's smaller and you can get your hand around it."
http://www.fitsugar.com/Snacks-Other-Healthy-Essentials-Black-Friday-20533672
Reade more >>